Post by crabjoe on Jun 28, 2020 21:14:40 GMT -5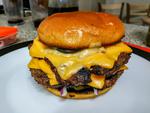 You went from a 50cc to 72cc (47mm BBK). How is it that after you got everything running, you're only getting 31mph? Isn't that pretty my standard top speed on most all stock 49cc scoots? Did you at least gain a lot of acceleration with the BBK versus stock?
Sorry I haven't been around for a bit, busy at my waterplant. No the top end is around 42-43, cruises well at 40. Pulls over a large inclined bridge at 30-35. The scoot has ran fine but has been garaged for quite a wild, been driving my car to work mostly. Started it up and ran it around the neighborhood this past weekend. Still very zippy, gets up to 30-35 very fast. Considering eventually putting in a 50mm bbk and stroker crank. Am very curious where to get upgraded gear sets, with the 47mm I feel even it is being limited by gearing ratios.
30-35mph up an incline. That's what I wanted to hear because I want to be able to go up hills at 30mph. Right now, going up any kind of hill, I'm usually around 25; this one hill I'm down to 15mph. Because of this and thinking you were topping out at 31mph with the 47mm kit, I ordered a 50mm kit. I ordered everything via AliExpress from Glixal. $160 shipped, I got 47/17 gears, 20mm carb, the BBK (jug, head, piston, rocker assembly), A9 cam, DLH variator kit and 6 different weights of rollers. There was a few other things I got too, but I don't remember off the top of my head. They just shipped it on 6/23... I'm hoping to have it within the next few weeks.
BTW, I ordered from AE because it seems most BBKs are non-branded, unless you get the super expensive kits. And Glixal seemed to have decent reviews on their products. Plus, it seems stock in the US is really limited right now. As for ordering on AE, if you're just ordering gears it's not worth it. You're going to pay around the same as would would from someone in the States, but shipping will take forever. But if you order a bunch of stuff from one vendor, you can get combined shipping to really reduce the cost.