Post by laydback on Aug 10, 2020 23:18:56 GMT -5
Okay all. I lurked for so long that the automated "poke" you to join counter was getting embarrassing. So finally I joined a couple or so weeks ago. I've played around with golf carts and pocket bikes, now i'm trying my hand at my scooter. It's a pretty nice find! About 3 years ago I bought it with about 725 miles on it. It now sits at 907 miles. Not bad for a 2002. When I got it, it would only kickstart... I was told that "everything worked but if you tried the electric start it would blow the fuse and nothing would work". Turned out that nothing worked period, other than it ran perfect from kickstarting. A bit of troubleshooting and I ended up replacing the fuse, voltage regulator and battery, and all was good. The cables were reversed on the battery that was in it when I bought it. I converted it to all LED and did the headlight mod, and she's been pampered every since. This spring I did a rebuild on the carb and another new battery, and she starts on the first kick every time. Ohhhhh but you boys are baaaadddddd influences!!!! Brought it home from the campground 2 weeks ago and now it has a tach and temp gauge, side kickstand, and the exhaust fell onto the garage floor and spawned a Yasuni R (already removed both restrictions)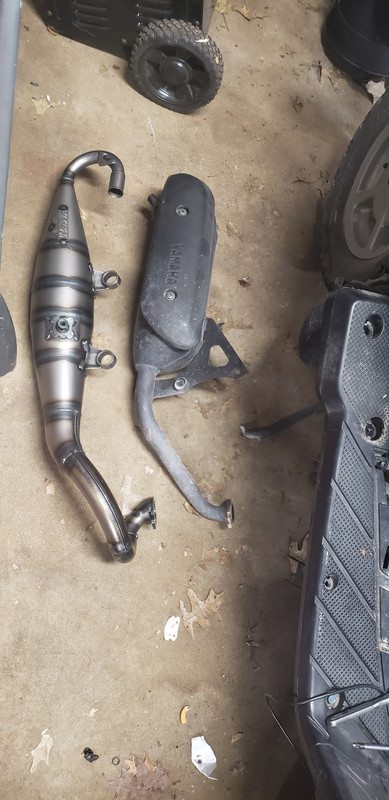 Theres also a box in the garage with other cool stuff:
Malossi 70cc sport cylinder kit
NCY Torque Drive
Malossi Fly clutch & bell
Malossi Kevlar Belt
Malossi Variator
Malossi sport clutch spring kit
Malossi torsion controller
Malossi wristpin bearing
Carb jet kit (6mm)
#46 pilot jet
Clutch holding tool
Variator tool
5g roller weights
5.5g roller weights
Lucas assembly lube
Hondabond
Mini files (the Malossi cylinder doesn't look to need any chamfering)
NGK BR9HS (I bought 4 just in case)
I'm sure there's some more goodies I may have forgotten.
Did I mention I've never done this before?!?!
Thanks Zino for the help you've already been, and thanks in advance to all that contribute. Zino I've been reading your recent posts and the Wild Lion or Silent Pro is what I was initially going with...not sure how well the Yasuni R will be received....hmmm
My goal is to build a dependable daily rider that is capable of 50ish mph. My plan is to fit the Yasuni to the stock cylinder and work on the carb jetting. I'm debating whether I need to get lighter rollers for the stock Variator to succeed at carb tuning. I was thinking that from there I would install the Malossi Variator and get it tuned to the right rpm range, and then proceed to the new clutch and springs. My hopes were that from here, I would swap the cylinder and maybe only have some fine tuning on the carb. Does that sound logical and realistic? I'm considering an aftermarket air filter just because the side kickstand tucks so tight to the stock airbox, and it would give space to get my foot in to push the kickstand down. Fire away gang! I'm sure there are things I've overlooked and I try to be pretty detailed.