Post by 90GTVert on Jan 1, 2011 22:23:12 GMT -5
Sometimes you're in a pinch and you need a different weight than what you've got around. There are ways to make your roller weights lighter or heavier. I don't really suggest these methods if you are worried about ruining a set of rollers. Some of these are risky or just plain won't work with certain styles of rollers, so if you can't stand the possibility of messing up a few rollers just put the tools down and order what you need.
Lightening roller weights would of course be the easiest. The best way is to enlarge the hole in the brass bit of the roller weight. The trickiest part there is getting the roller to hold still while drilling without crushing the weight or ruining the plastic shell. An alternative method that I have seen is to drill across the hole rather than along with it to enlarge it. You would want to use small holes and perhaps chamfer them lightly. I suspect rollers modified this way wouldn't last very long, but they could do the trick for testing. Sorry there are no pics for this, I had plenty of light weights around.
However, I did not have plenty of heavy 15x12mm rollers around. Here are a couple of things I tried to beef up the weights at my disposal.
The first set of weights I tried started at 7 grams.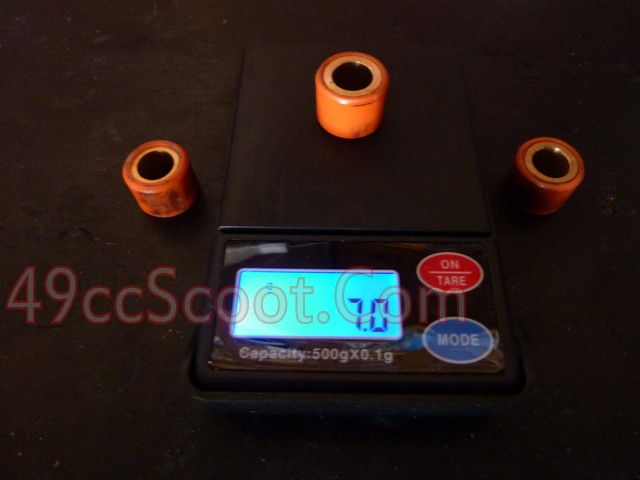 I filled each of the weights with Plastic Welder, available at many hardware stores and automotive stores. It's fairly cheap and it has worked very well for me in the past. JB Weld was actually my first choice, but it was so cold in the garage that it didn't want to squeeze out of it's tubes. I've also heard of others using a plumber's hardening putty. Once dry, make sure you sand or file any excess so the weights retain their original outside dimensions.
The plastic welder added 0.6 - 0.7 grams to each of my weights. This could be a good choice for slight weight increases.
Next, I broke out a set of 7.7 gram weights.
I wanted to fill these with solder. Of course you can't heat the brass enough for the solder without melting the plastic. Some weights can have the shell removed fairly easily. It may not be practical to remove the outer shell on other designs. These particular weights were quite cooperative. I lightly clamped the rollers in a vice. Then I used a bolt, larger than the ID of the brass, to push the brass section out.
Another set of rollers I worked with gave me a bit more trouble. I used a tap just large enough that it wouldn't pass through the brass core to thread into the roller. After a few threads in, the brass started turning. Turning and pushing or pulling allowed me to remove the brass core.
Once the core is separated, apply soldering flux to the inside. Place the core on a safe metal surface and heat it with a torch. Once it's hot enough, you'll be able to fill the center with solder.
If you have any excess solder, file it off. Then you can insert the core back into the sleeve. I had to use a rubber mallet and gentle taps to get a coupel fully seated.
The solder filling added 4 - 4.4 grams to each of the weights I tried.
No matter which method you use, always make sure your rollers are of equal weight. You can equalize them to the lowest of their weights pretty easily by partially drilling into the new filling material. Drill a little and weigh, over and over, until they all match up.
Remember to stagger roller weights of unequal weights, every other, as shown below.