Post by bluegoatwoods on Jan 10, 2020 12:04:27 GMT -5
I've searched for the perfect bar mitts for some time now and haven't had much luck. It was easier in the days when I rode a simple manual bicycle. I would make bar mitts that were little more than a rectangle made from cheap tarp and lined with soft foam rubber for insulation. My hands were usually just fine at even 0 deg F.
But it's more difficult on e-bikes and motor scooters, isn't it? You need some more dexterity in your thumbs and..........on e-bikes anyway.............it's good to be able to see the buttons you need to be pushing. Some bar mitts restrict your thumbs too much. Others are just so big and open ended that they let too much cold air in and don't do their job very well at all. I've found some that are pretty warm and comfortable.........with some tailoring at least.............but aren't weather-proof at all. Others are stout enough for rough weather but aren't warm.
It's discouraging. But I've found something that holds promise.
It starts with cheap heated hand grips.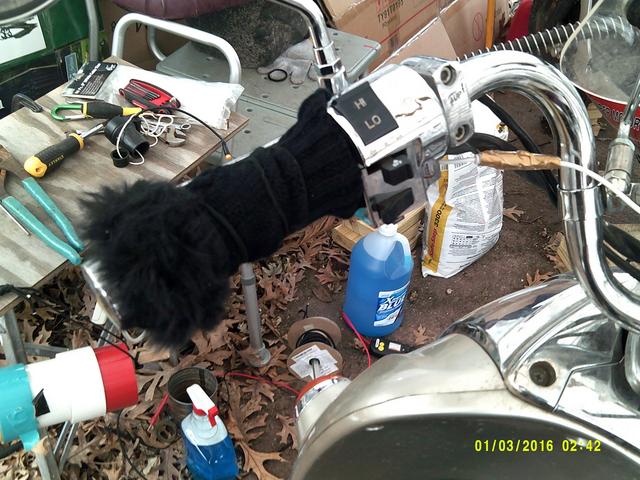 Maybe this pic tells their story a bit better.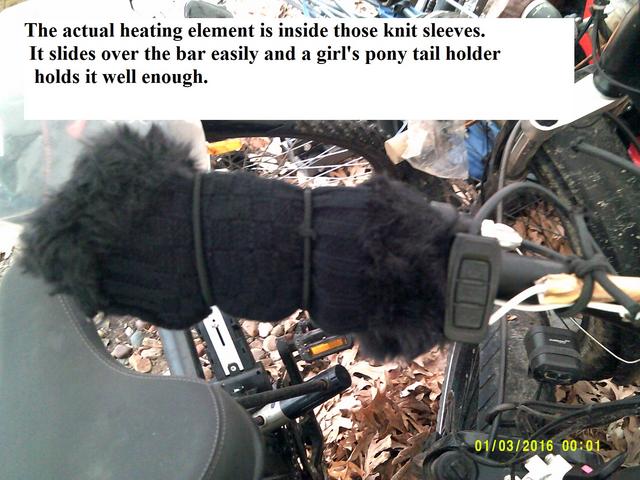 I got these for twelve or fifteen bucks........something like that.........from Amazon. They're USB powered so that you can power them from those extra batteries the kids carry around for their cell phones. I've only had minimal cold weather to test them out yet, so it's early. But they do appear to work well. I use a battery that's not much larger than a cell phone, but thicker. It might be 3/4 inch ..........75 mm.........thick. I think it's capacity is 20,000 milli-amp/hours. It has one output capable of 2.4 Amps of current. That seems to be the minimum for these. On a 1 Amp outlet they don't get very warm at all. Some reviews say that they get good and hot on a 3 Amp output. But I haven't been able to confirm it since I don't have a 3 Amp output. But I did some riding on a scooter in 30 deg F............-1 deg C.........with the 2.4 A out plus brown Jersey gloves and my hands were just fine. Gauging battery charge loss on that short ride I'm estimating that battery will give me 90 minutes of warming power. That's actually good enough. I doubt I'll ever ride longer than that when it's genuinely cold out. Maybe not even when it's warm, these days. But that's another matter.
But I still need bar mitts. I want my hands and arms protected from rain and wind plus the grips themselves need protection too. I found some that work pretty well for an e-bike.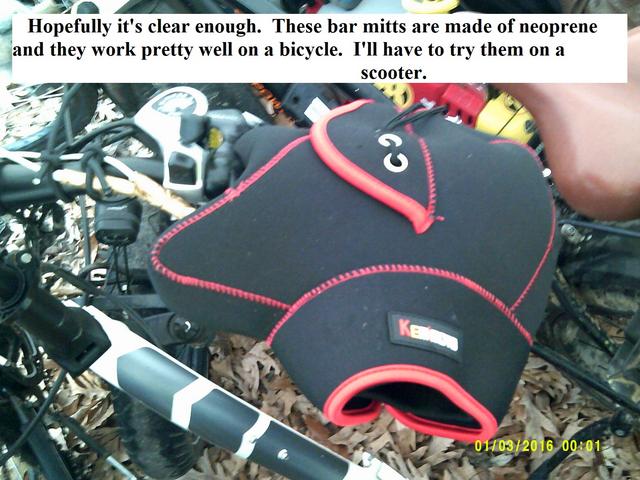 These are pretty good at about 20 bucks a set. I dislike that price. But it's not too far over the top, I guess.
But these do need some weather protection. Left to themselves they'll let rain and wind in. So they have to be covered.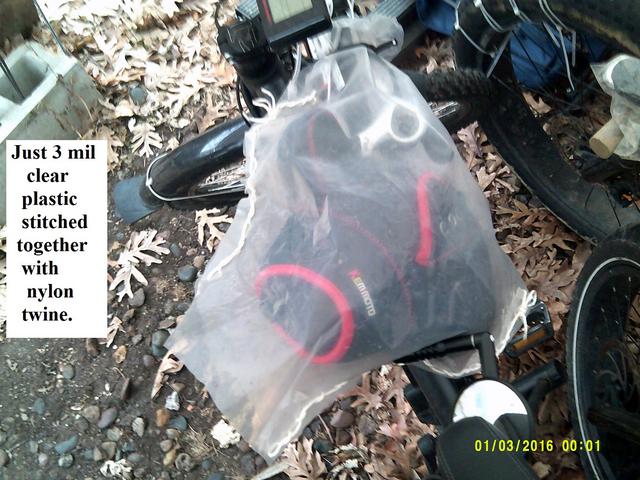 I'm counting on the greenhouse effect to be helpful with these. The clear plastic stitched together with twine probably won't be regarded as stylish. And I'm considering making something that doesn't look like Ziploc bags. But I probably won't bother. I'll always sacrifice looks for practicality when needed. As long as they don't have some fatal flaw I haven't yet perceived.
Those mitts might even be pretty good on a scooter. But I haven't tried that yet. I've got something different on the scooters.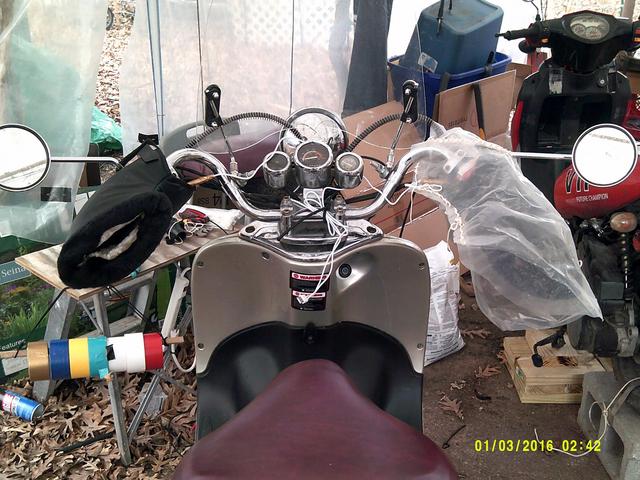 These are another twenty dollar bar mitt made with very cheap plastic and faux fur. They are pretty warm if you can seal up the end. But they're not weather-proof at all. But never mind. The plastic cover seals up the end and protects everything from rain.
Naturally the plastic will eventually weather and crack. But it's so easily replaced, of course, that that's no issue at all.
The only question left is how to carry the battery. The solution below will need to be only temporary. I'm gonna have to figure out something that's more water proof than that. And if I can make it look more polished....well.....that'd be good too.