Hello!
Jul 11, 2020 2:29:07 GMT -5
Post by Timberhill on Jul 11, 2020 2:29:07 GMT -5
Hello everyone!
I'm 29-year old guy from Finland and three weeks ago I bought my first scooter ever, Jonway Warrior 50cc. Well actually I'm not quite sure if the model name is Warrior but when i google "Jonway Warrior", I find similar scoots.
I have driven scooter twice before over 10 years ago, so there's my all experience with scooters.
As a kid, I used to drive Suzuki PV '93 and actually I still have it on my garage. It just doesn't run at the moment.
I planned to restore it to original at winter when i have vacation. I might do a build log from it.
When the spring came to Finland, the two-wheeler fever hit me too hard and I just had to get something to drive with.
As I don't have licence to drive motorcycles, I started looking for scooters and old mopeds but couldn't quite find anything with good price.
Then there came young 17-year old boy to my workplace for summer job. My boss placed him to work with me.
Well we get to know each other and we started to speak about scooters for some reason. I told him that I'm looking for some cheap scooter to work with. When the day was over I brought him home and he said that he has scooter on his garage, wanna check it out? Well why not?
Visually it looked pretty good. It had ~3500km (~2200 miles) on the odometer. Then he started to list faults :
- It didn't have indicators
- It doesn't run well (max speed ~18mph)
- Lights doesn't work
- Kickstarter doesn't work well
- Rear brake doesn't work at all
- Tires were leaking air
- Upper bushing from rear shock absorber was broken
- Battery was dead
- Throttle cable was worn out badly
- Aftermarket air filter
Then we get to discuss about the price. After 15 minutes I agreed to buy it with 100€ (113$). I also got 1 liter Husqvarna 2-stroke oil (worth of 20€ or 22,6$), unrestricted CDI-box, spare intake manifold and original airbox.
So I got home with my first ever scooter. I stripped it down completely without even trying to run it.
Rear brake started to work with just cleaning and adjusting, lights started to work when i connected wires to places where they belong. Kickstart started to work when I just assembled it correctly. Next i ordered some parts :
- 75 main jet 3,49€ (4,45$)
- Fuel hose 1,99€ (2,25$)
- Fuel filter 2,00€ (2,26$)
- Battery 12V/4Ah 14,99€ (16,94$)
- 2x inner tire 120/130-12" 16,00€ (18,08$)
- Throttle wire 9,40€ (10,62$)
- NGK BR7HS 3,90€ (4,41$)
- Indicators 5,06€ (5,72$)
Total of 56,73€ (64,10$). So with scooter the grand total is 156,73€ (177,01$).
Parts came (except indicators) and i started with disassembling and cleaning the carburetor. Also installed new 75 main jet.
Then I assembled the carburetor and installed it to intake manifold, put new fuel hoses, filter, stock airbox and spark plug.
It was time to fire it up.. Just a couple kicks and it started! Next i installed rest of the parts I ordered and the scoot was ready to go for a ride. Everything worked nicely. Just needed some work on adjusting the carb. According to scoots own speedometer it goes ~60km/h (37mp/h) on flat and 80km/h (49mp/h) to pretty steep downhill. I tried to measure speed with my smartphone but it just shows max speed of ~21km/h (13mp/h) no matter what app I use
When i drove to uphill, speed dropped a lot. I realized need more power for uphills.
I don't need or want more top speed, but acceleration and torque. Aftermarket pipes are pretty much out of question because here where I live they draw way too much attention from police. So would 70cc bbk with ~90 main jet be the best choice?
Previous owner has removed spacer/restrictor from variator so the current setup is :
- Stock cylinder
- Stock carburetor with 75 main jet
- Stock exhaust
- Stock air filter
- Stock variator with spacer removed
- Stock clutch
- Unrestricted CDI-box
If someone can point me to right direction i'd be glad!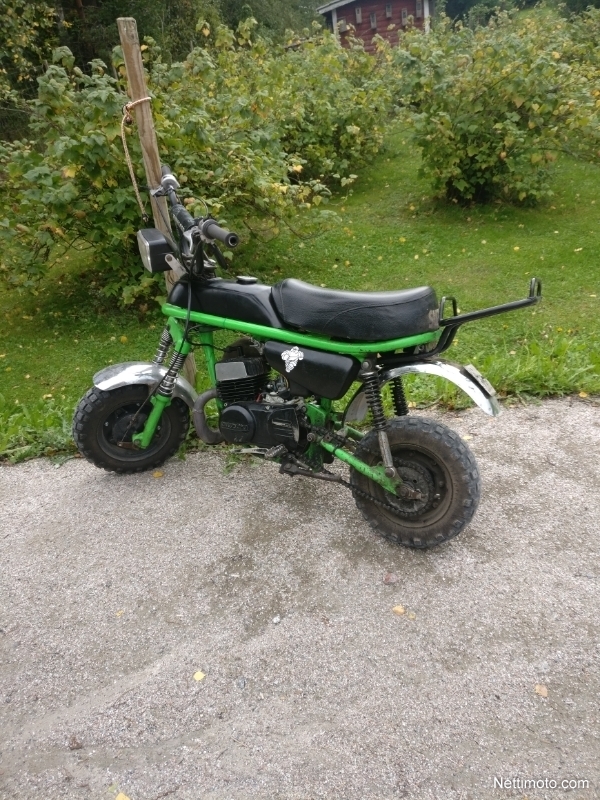 Suzuki in the picture is not actually mine, but pretty much same looking.