Post by ingram on Nov 4, 2020 21:02:00 GMT -5
My second scooter I picked up is a 2005 Piaggio Typhoon 50 US model. It only has 900 miles on it but has been sitting in the weather for a while so there is some light rust and the carburetor needs a good cleaning. When I went to check it out in person is started right up and ran pretty good except at full throttle it was bogging so I knew something was a little off. I am hoping to keep the stock cylinder for a while and just remove the carb restrictor, upjet, and put a new sport exhaust to eliminate the emissions items. This will be my secondary scoot for my wife to ride with me or my boys when they get older.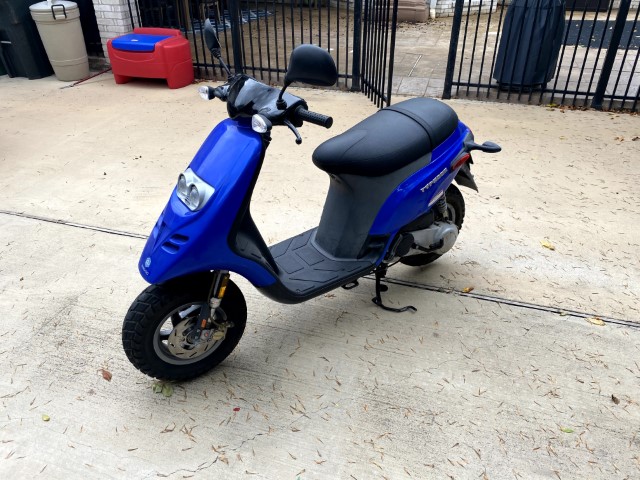 After getting it home and further inspection I realized the intake manifold rubber was super flexible and I could see it was cracked at the base when I wiggled the carb around so definitely has an air leak there and needs a new intake manifold.
The carb is a 17.5mm Dellorto PHVA which I pulled off and took it apart and it looks like it had gas sitting in it for a long time. I ordered a gasket kit for it so will be cleaning it and replacing all the gaskets. There is some epoxy like substance in the float bowl area that I have no idea if it is supposed to be there or not. I don't have experience with this particular carb but it looks like the epoxy substance is plugging up a hole that goes from the float bowl to the intake of the carb.
Then I pulled the variator cover off and the transmission looks fine but I don't see any oil in the lines going in or out of the oil pump so I assume it ran out of oil at some point or the pump is bad. The previous owner said he just filled up the oil tank and I can see oil to the top of the tank but its just not in the lines leading to the pump or after the pump.
I ordered a new oil pump for it but now I'm concerned about how long it was driven like this and if my cylinder needs to be replaced or even worse the crank and bearings. If I have too much trouble getting it to run right with stock cylinder I will probably just go for the Malossi Sport BBK.
I purchased the following items so far:
Malossi Intake Manifold for Piaggio
Oil Pump for Vespa ET2, Piaggio

Reed Valve Motoforce Racing Piaggio
Exhaust Polini Speed Piaggio (Same as Malossi Wild Lion)
Oil Seal for Crankshaft Piaggio
Malossi Double Foam Air Filter for SR 50 & Derbi (1414497)
NGK BR9ES Spark Plugs
Ethanol Resistant Fuel Valve for Vespa, Aprilia, Piaggio CHROME
Variator roller weights adjustment set Polini: 19x15.5mm 4.50g 5.00g 5.50g 6.00g