Post by pinkscoot on Jul 23, 2022 9:29:10 GMT -5
Well I found another free Scarabeo. The first one is still running like a top and is a really well built Italian scooter with a bullet proof Austrian Rotax engine. My new one not so much. These were designed by Piaggio but built in China to their specs and standards. From everything I have read they are solid scooters. The problem is they only used the Chinese engine for 4 years before they put the Quasar engine in them. Unlike all things Piaggio you can get parts very easily with a choice of venders. Malossi and Polini make a wide assortment of go fast parts for these. So the adventure begins.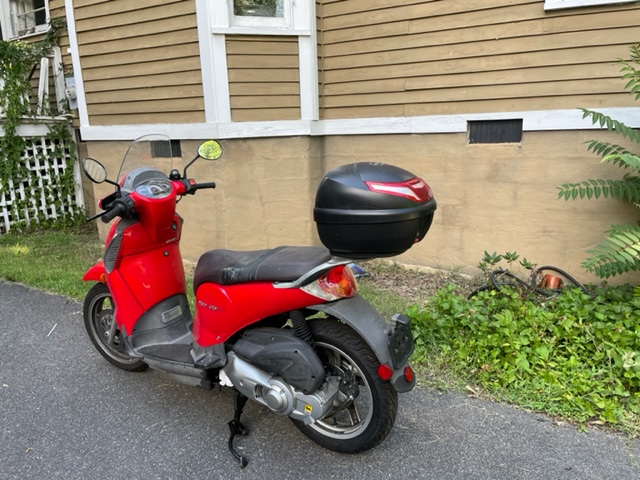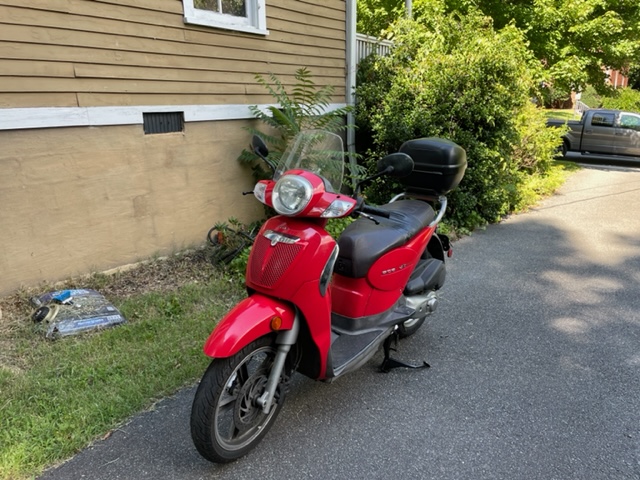 Here it is home, it is in really good physical shape. It has 20,000 miles on it, for Piaggio product that's nothing, for a Chinese product who knows. Head light is a tad hazy and some miner crazing on the instrument cluster. The big thing is it has a cracked oil filter cover. The PO instead of getting an oem o-ring, that are readily available he used one way too thick and when he tightened down on it it cracked. He of course sheered lots of sealant everywhere so it's a mess. I started with AF1 and was told that they didn't have them and never will get any. So I googled the part number and found one in The Netherlands, shipping was more than the part. I ordered and got an email the next day that they had to get it from there supplier and would let me know if it was available, damn. Crossed my fingers for 2 days and then got an email that it was shipped. I should see it July 26-August 1. This of course is the key to seeing what I got. Can't check compression or it's storability with no oil.
The PO said the clutch was slipping and when I roll it the transmission was noisy. He asked me if I had the tools to take the clutch off so I suspect he may have never touched the CVT. I'll know when I get in there. All that I have read says that the clutch is undersized. It will get a Malossi Delta clutch and Bell, Multivar and new outer variator plate. I read that the OEM Piaggio belt isn't the best so I will go for a Kevlar belt. Of course it will get new fuel and vacuum lines as well as a good carb clean. Not sure who put the gas cap on last gut it will take a big wrench to get off, the vent lines will need investigating.
These scooters are capable of speeds in the 70's so It will be a nice addition to my 150cc plus collection and of course it's red so it will be a bit faster. I will keep you all posted on my progress.