Post by 90GTVert on Feb 14, 2010 21:29:45 GMT -5
Front Wheel Bearing Replacement
The first step is to raise and support the front of your scooter. I can use jackstands on my footpegs. Most scooters with properly functioning centerstands can raise the front wheel by strapping the rear of the scooter to the ground.
Remove the front axle and wheel, being careful to not the position of any spacers, washers, etc... I like to put the components on the axle in the proper order to be 100% sure I don't forget what went where. You may need to remove the front fender or brake caliper on some scooters to get the front wheel off.
With the wheel removed, you can easily access the front wheel bearings.
Now you'll need a blind hole bearing puller. I purchased mine from Harbor Freight for less than $40. The bearings can also be driven out in most cases, but the bearing puller is much easier.
Insert the proper bearing attachment into the hole in the center of the wheel bearing. Some small 10" wheels and others may have bearings that are too small for the puller to fit through. They can often be dremeled until the puller will fit.
Tighten the puller until it expands enough to hold the bearing sercurely.
Next, attach the slide hammer portion of the bearing puller.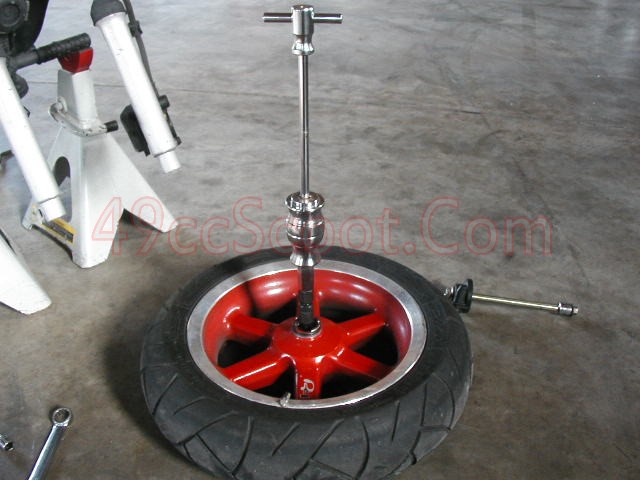 A few good whacks (away from the wheel) of the slide hammer should pull the wheel bearing out.
Insert your new wheel bearing and apply pressure to seat it evenly as far as it will go by hand.
Use a bearing/seal driver or a socket that matches up to the outer diameter of the wheel bearing to drive the bearing into the race. There should be a seat or spacer to keep the bearing in the proper position. Do not try to drive it past that spot.
Flip the wheel over so you can access the other front wheel bearing. This side has a rubber seal that helps to hold a spacer in place which must be removed. Pry it out with a seal extractor or simply use a screwdriver to pop it out.
With everything out of your way, follow the same procedure as you did for the other side to remove and replace this wheel bearing.
Press the seal back into place.
Reinstall the front wheel on the scooter. If your brake caliper is still on the scooter, make sure the pads are separated so the disc brake can slide into place.
Spin the wheel while the scooter is still supported off of the ground. Make sure the wheel moves easily and without noise. If all seems well, reinstall anything else you had to remove to get the wheel off and let the scooter down.