Post by 90GTVert on Sept 20, 2010 13:34:11 GMT -5
If you are still using a stock airbox, this should be unnecessary. Once you switch to an open filter, you are left with a hose coming from the vavle cover's vent that has nowhere to go. Plugging the vent off is not an option, because the pressures inside the crankcase need a way to escape. If left open you may end up with oil coming out of it and ending up coating everything around it. That makes for a mess and can be dangerous if near the rear tire. An oil catch can or other form of ventilation system can easily cure this problem though.
When I first isntalled a hose 14-16 inches long and small air filter to my valve cover vent, I didn't get too much oil leaking out. Then the hose ripped and I just cut it shorter (8-9") and put the filter back on. After that, I got a lot of leakage. I decided to try a longer hose. I ran a hose 2 1/2' or so and then put the filter on the end. I think 2 1/2' is a bit overkill, but hose is fairly cheap and it's not in the way. It's very simple and it is working well for me.
Choose a tubing or hose that is safe for use with hot oil and appropriately sized to fit your filter and vent barb. Local autoparts stores should have plenty of choices. When running the hose, make sure to keep it away from anything that can pinch, burn, or cut it. Secure the hose with plenty of zip ties, clamps, or whatever works best for your needs, but be sure not to pinch it off. I feel it works best heading uphill. That way if oil is sent up into the line, gravity should return it to the engine.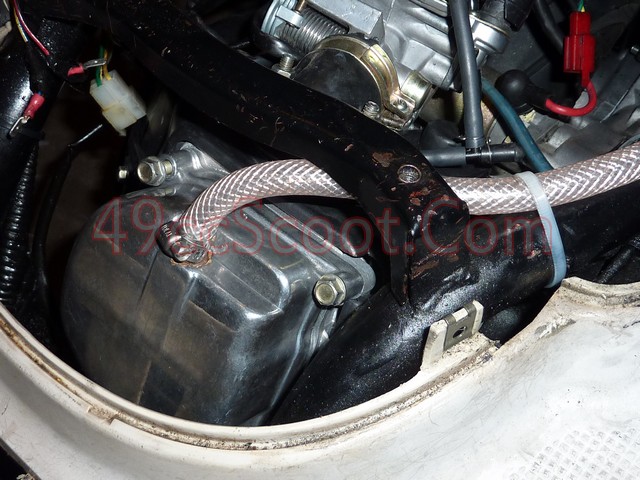 The filter I used can be found at lots of auto parts stores at a reasonable price. I beleive it was made by Spectre. I used a short length of aluminum brake line tubing to securely attach the filter to the hose. I zip tied the filter into place on a support. Always test fit panels and the seat to be sure there is no contact or pinching.
Another option is to buy or make an oil catch can. The catch can allows ventilation as well as catching oil overflow from the valve cover's crankcase vent. It may need to be drained periodically. Here's a diagram of all that's involved in a simple crankcase breather/oil catch can. You can search google and find ready made catch cans to use or to give you more ideas to build your own. Again, be sure that you use a material suitable for hot engine oil.
Some people choose to handle this task very simply and just route the PCV hose into a soda can or pill bottle to catch the oil.