Post by niz76 on Jan 18, 2016 19:40:42 GMT -5
Thanks for the comments fellas! The night before I made the trade I watched a bunch of Vespa youtube vids and did some basic research wondering if I really wanted to get into this Vespa. I mean, parts must be scarce and very expensive right? Nope! As Lucass pointed out, there's tons of aftermarket stuff available and much of it quite reasonably priced. These late 70's "P series" scoots are not all that rare at all which is probably a good thing for someone on a tight scoot budget like me!
With this scoot not being a super rare classic, it kinda frees me up to make it my own without worrying about doing a "classic" or "original" restoration. The spirit of these scoots is to let your personality shine!
This scoot came with a pretty neat-o book titled "How to Restore and Maintain Your Vespa". I haven't gotten very far into it yet but it seems like a cool book. The writer describes restoring and maintaining these Vespa scoots as "Easy to Master" and "Relatively Cheap". With that being said; I do have some ideas floating around in my head about how I'd imagine it as a finished product! I also looked at hundreds of Google images and I believe I've narrowed down the look I personally like and would love to call my own. A blacked-out Italian Polini race scoot! Something like this:
Of course, everyone's taste varies and some would disagree about taking it in that direction- but I think it's badass!! Especially while pulling wheelies through the gears! lol. It'll be a while before it'd end up like this but as you can probably already tell, I'm thinking I may keep this scoot around for a while

Maybe even get my MC endorsement on it...
OK, so back to reality! Here's some more pics of the scoot as I have it. Far from a Polini race masterpiece!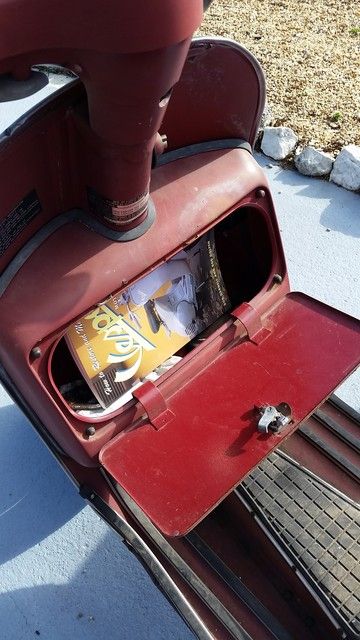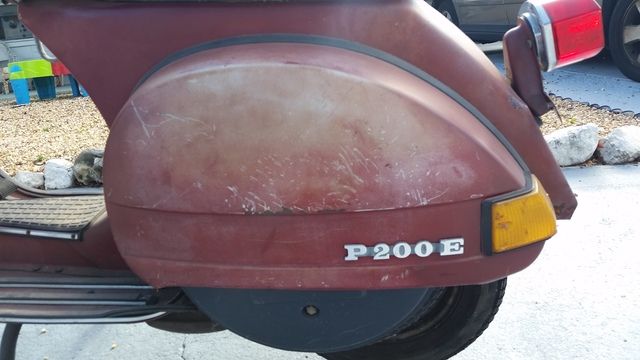 The seller I got this from (trader) told me how his buddy abandoned this scoot in his garage about 5 years ago. He said repeatedly he'd come back for it, which changed to him saying he'd dig up the title and send it to him (he's believes it was titled in Massachusetts), to him finally recently calling him up and telling him he'd probably never get back here to FL to retrieve it and to just sell it off. So.... no title
Also no keys
He said that his buddy unloaded it from the trailer 5 years ago, fired it up and drove it around for a bit, and parked it there in his garage where it's sat for the last 5 years. So the scoot is complete and it did run when put away last. The funny thing about it having no keys is that the ignition is in the "on" position with the key taken out. Weird. When I checked it for spark yesterday- sure enough it's "on" and sparking away! Sweet! That made me really want to dig in as it meant I could be riding it very soon!
As you can tell from the vid above, she purrs like a kitten! The fuel tank was dry with a slight patina of rust in it. Nothing that couldn't be easily taken care of with a little 1:1 muriatic acid and water! I took the fuel tank out along with the oil tank which is attached (this is the "deluxe" U.S. model with oil injection and a battery!) and cleaned it up real nice, installed a new fuel filter, cleaned the muck left behind on the screen filter in the tank and re-installed. I took pics along the way and will upload soon. After that, I wondered how bad could the carb really be? Maybe it was gunked up, maybe it wasn't. Hmmm.... I put fresh fuel in the tank (pre-mixed for safety), fresh 2t oil in the reservoir, and gave her a few kicks. It fired right up! I couldn't contain my excitement as I checked the tires and brakes for functionality and took this baby out for a ride! Oh so sweet. It runs perfect! It shifts perfect! (maybe could be lubed a little better to cut down on the wrist fatigue). I didn't get too crazy as it was dark and the headlight doesn't work- tail/brake light does though! I bet I got it doing at least 50mph and was barely even into 4th gear! She's gonna be a screamer!
Here's a little vid showing what these baby's are capable of! Of course, that's not the model I have but you can see how much fun one could have with some power and a clutch/gears in a scoot! Tons of other fast Vespa scoot vids out there too!