Post by niz76 on Jan 24, 2016 17:34:17 GMT -5
After riding it around the neighborhood for a while I could see that the shifter was quite difficult to use and really took a toll on the left wrist after only a short time. I located the shifting mechanism (referred to as the "batwing") under a little cover on the bottom rear of the engine and really greased everything up the best I could. It was an immediate improvement!
The next night I had gotten some material to cover the seat and only then realized that I'd have a real hard time stapling new material to an steel frame haha. I considered my options and set the seat off to the side. What will I do?... Hmmm.
I have an Adly seat that's in good condition from an old parts scoot I bought. I started cutting and shaping and eventually had a fit that seemed to work...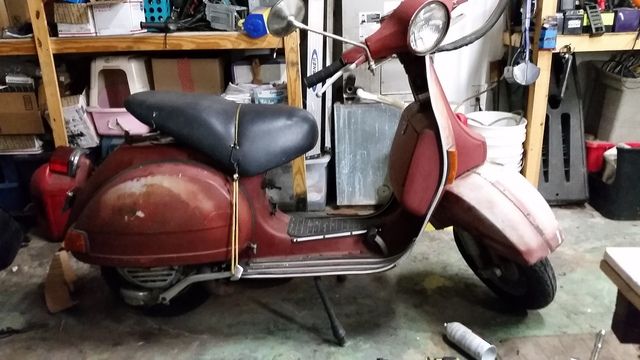 I know, I know- it's just not right to have this seat on there! Luckily this isn't one of those older classic Vespa's where it'd be a sacrilege to use anything but the correct original parts- I'm not really into that whole classic original restoration stuff anyway- it seems that these late 70's "P series" scoots aren't really considered classics or anything special really...
So I kept cutting and modifying (all mods are to the seat-
not
the scoot!). I'm not sure why common sense didn't stop me before I got to far but I made a project out of it and starting creating this custom steel piece for the rear:
First mocked up with cardboard:
Then traced and cut into steel (it's the front of an old discarded dishwasher):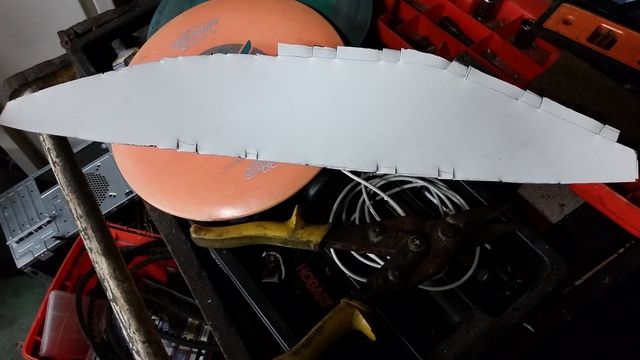 I just kept cutting and shaping until it fit the scoot well and created a bracket and riveted everything together. I finished it off with a rubber lining and later added a huge magnet!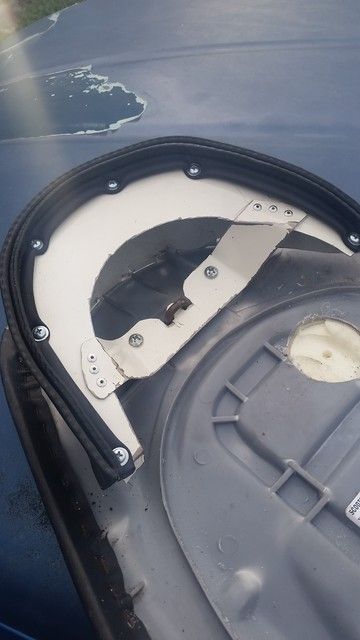 At some point it was getting late.. and quiet inside the house...too quiet. Hmmm... mommy had fallen asleep in the chair and baby was free to take a look at some movies! lol. My little Hurricane.
So the Adly seat fits nicely and is very comfy! The stock seat has a weird angle to it that makes you feel as if you're sliding backward. I'm hoping to re-foam and re-shape it before I put it back on. Adly seat fitted from the rear:
A few more days of riding and tinkering and this thing keeps leaking fuel overnight and also flooding the engine and making it really hard to start for the first time of the day. I dug into the strange Dell carb and found that the rubber tip of the float plunger is deformed...
I moistened it up the best I could and also found part of the problem is that the float is hanging too high- or too low- depending how you're holding it! Of course- like the modern ones- this Dellorto float is all plastic and there's really no way to adjust it save from melting it with a lighter and re-forming it- which I've done in the past! I decided to add a little blob of solder to the top of the plunger and then sand it to just the right height so that the float applies more pressure to it- sealing the fuel off and keeping it from flooding the engine overnight and stinking up the garage!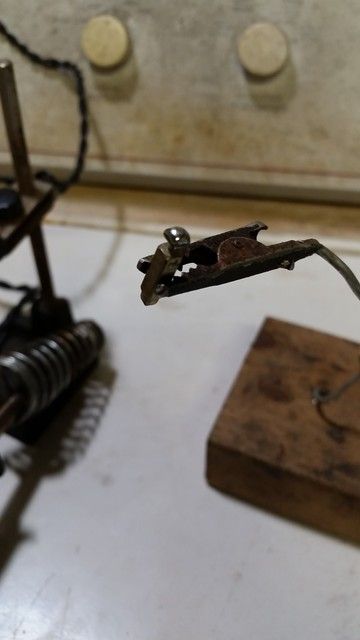 Success! A (almost) level float!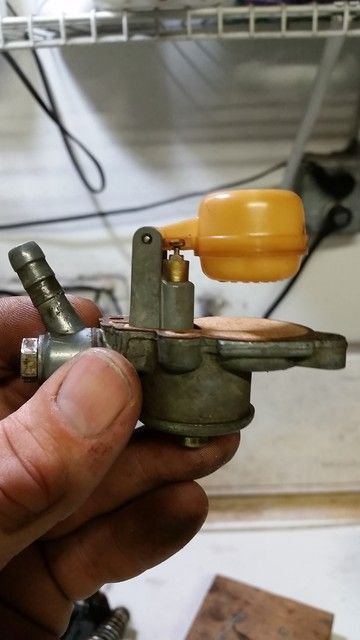 Now she's much easier to start and no more stinky garage!