Post by mattyslimz on May 18, 2019 16:16:04 GMT -5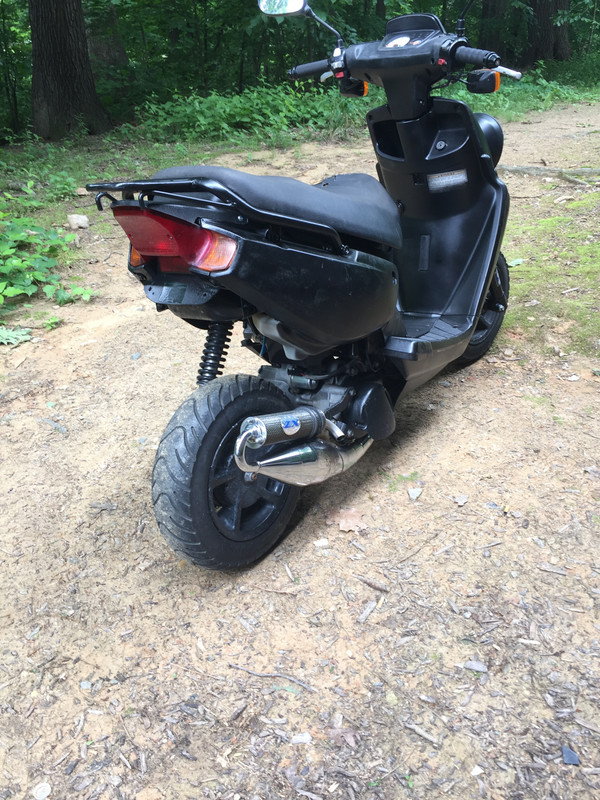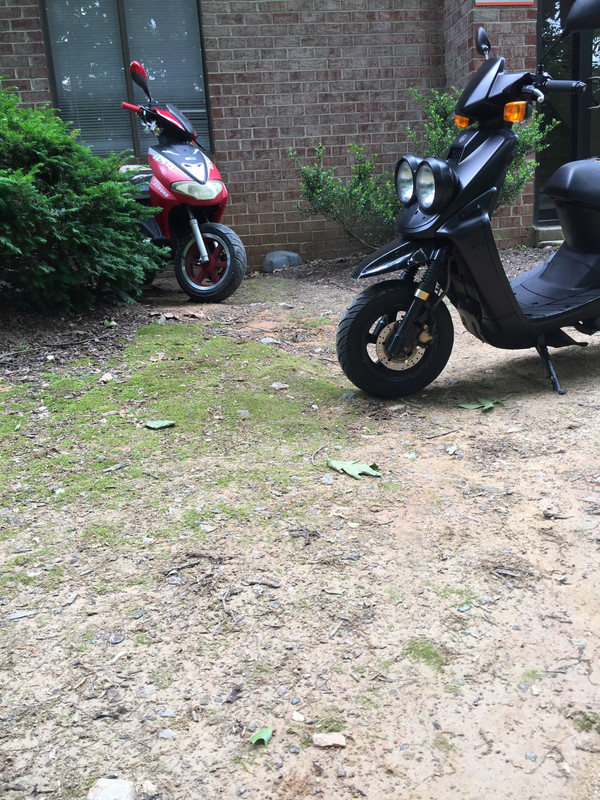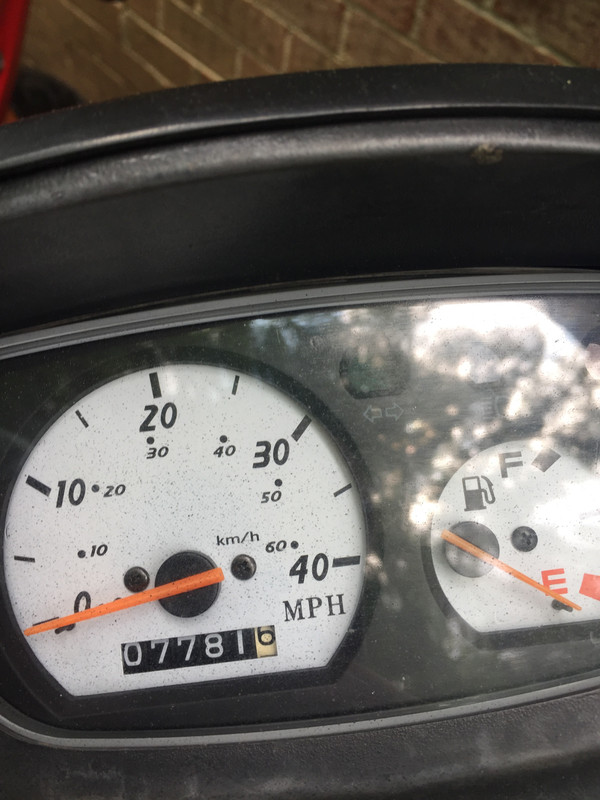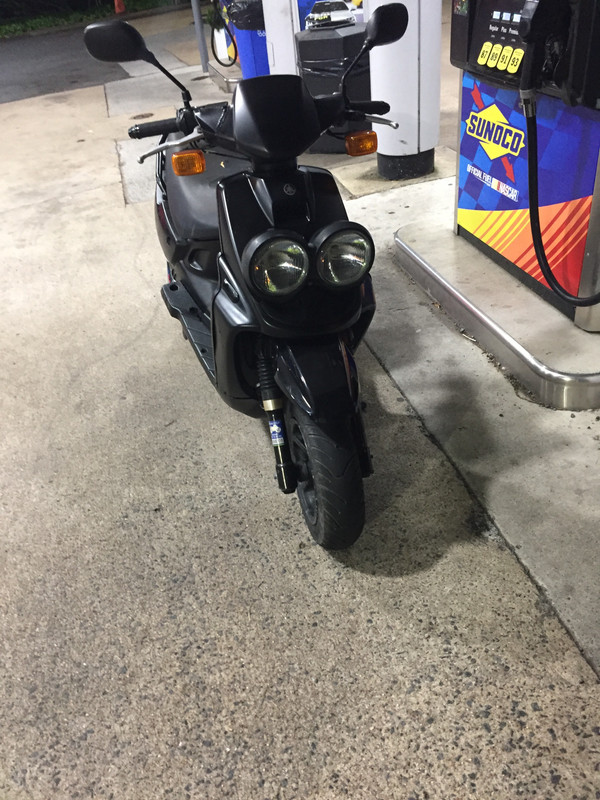 I couldn't help myself but I broke down and bought an '05 BWS 50 (Zuma 50) for a mere $600. Mileage is 7600. The RX8 was running great with the new S6 sport cast streetrace bore, but broke down on me on the way home from work Thursday afternoon. The bike starts and runs fine for a minute or so and cuts in and out and finally shutting down. It's not bogging down when it cuts off, but more of a spark- like issue it seems. My first thought was a fouled plug, changed out, same problem. The petcock seems to be supplying enough gas from the vacuum though I do NOT have clear lines to see if there's any blockage. Cleaned the el cheapo 19m carb and jets of the minor white flake and still not it. I was tired of trying to track down the issue and I need to get to work. So kinda rushed and skimmed FB marketplace, CL, Offer up and letgo for a decent yet affordable bike.
The Zuma has a aluminum single ring piston and bore (not sure of the quality on Athena, previous owner said it is an O-ring gasket head design.(I know they're decent for Tomos etc. but not sure of Athena's reputation with scoots as far as reliability, leaks etc. are concerned) Athena 70 kit with stock crank AND FACTORY OIL INJECTION! (Headshake) PO claims kit was installed 400 miles ago.. I'm thinking of putting on my Stage 6 cast on from the RX8 for reliability reasons, but not sure if it'll work because pin size. The factory carb has been retained with PO claiming an upjet 88 main. And guess what, the factory airbox is still on there thankfully. After all the talk of keeping the stock airbox in place for keeping cool/lean conditions, I'm glad it's on her especially with this damn bore that rips and gets hot quick from what I can tell, I think now is REALLY the time to go ahead and order that TrailTech or Koso (if Koso even makes an air-cooled gauge) and slap it on there. With the weather getting warmer and that kit I'am worried about temps. I wonder if my 1e40qmb oversized fan from str8 tuning will work on the Zuma? Thinking of putting Polini CP21 on this. I don't know what the R&D/testing people were smoking out at Leo Vince when they released this "ZX" pipe, but it's earshattering loud. Its almost like I'm riding a YZ80 with a Shorty silencer on the street it's so loud (kinda feels like it (YZ80) with the power-band this thing hits at though.) Mid-range and high out are pretty good with the pipe, down low has a little torque as expected but I'm sure there's better pipes out there for sure. I'm planning on doing "the ZX quiet mod" by modding the silencer here after this post, but ultimately just getting an S6 or Yasuni variant.
The CVT is in desperate need of some mods. PO said it "may have lighter rollers" but I wont know the status of anything until I pull the cover off. The clutch seems strong as could be so it could be replaced or aftermarket already. The bike is screaming for more at 41-43 mph which feels like the restrictor may still be on the collar (boss) I'm not sure if Zuma 50s from this generation even came with them. You would think if the rollers were in fact changed as the PO claims, that common sense for more speed would to remove it, guess I'll find that out soon too. I have the NCY secondary pulley in the package still ready to be put on to help with the weird angles for the pins to slide up and down, so coupled with a Malossi Multivar (real) I should have a decent budget overrange set-up. The tires are 100/90-10 front and rear by Kenda. I'm looking into a forged wheel set down the road.
I still plan on keeping the QJ Rx8 and figuring out its issue which I know MUST be minor, so that me and the ol'lady can ride together and to keep it as a spare bike for guests to ride. The Zumas a little clapped out looks-wise but I just ordered a nice seat cover for it off Ebay with white stamped YAMAHA logo for $30 on the "bay", but it seemed like a decent price for what is and it already has the fender/tail delete and integrated turn indicators which is a plus in my book. Thoughts regarding mods for Zuma or insight on the Rx8 issue is welcome and appreciated. -Matt
Read more:
49ccscoot.proboards.com/thread/24685/2007-qj-rx8-build?page=2#ixzz5oJTJoQ3G