Post by hippo008 on Feb 28, 2021 17:46:21 GMT -5
I got some satisfying work done today. I cleaned out the gastank and filled er' up with Evaporust. I'm letting it simmer overnight.
I also started on the plastics restoration. I have used a lot of different "back to black" plastic restoration products before but they are usually terrible. They either don't last, leave a greasy/waxy finish or flake off later. The only two tried and true methods I know of are a heat gun or a product called Polytrol. The heat gun method I have personally used and know works well. The ticket is to gently melt the top layer of plastic just enough to burn away the oxidation without melting the plastic or warping anything. Its hard to do correctly, especially on thin or strangely shaped plastic. The other method I have only heard of but I have seen the results in person, Polytrol. I am not sure what the stuff is made of or how it works but boy does it work. I had to order a can of it from France of all places. About $25 shipped to my doorstep. It absorbs into the surface of whatever you paint it onto. It doesnt dry waxy or slippery at all. It doesn't fade and it doesn't flake. I've seen old Yamaha Prepug plastics treated twice with Polytrol in 2018 that still look new to this day. No weird discoloration, flaking or staining issues.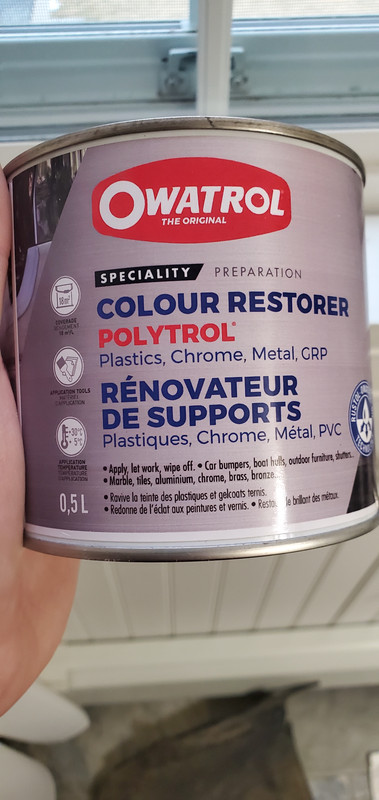 I started by bringing all my plastics inside overnight to warm up. This morning with some Purple Power and a nylon brush I cleaned every faded plastic in my bathtub. Once everything was degreased and clean I rinsed them off in the shower with very hot water. I let them dry on my bathroom floor for at least a few hours.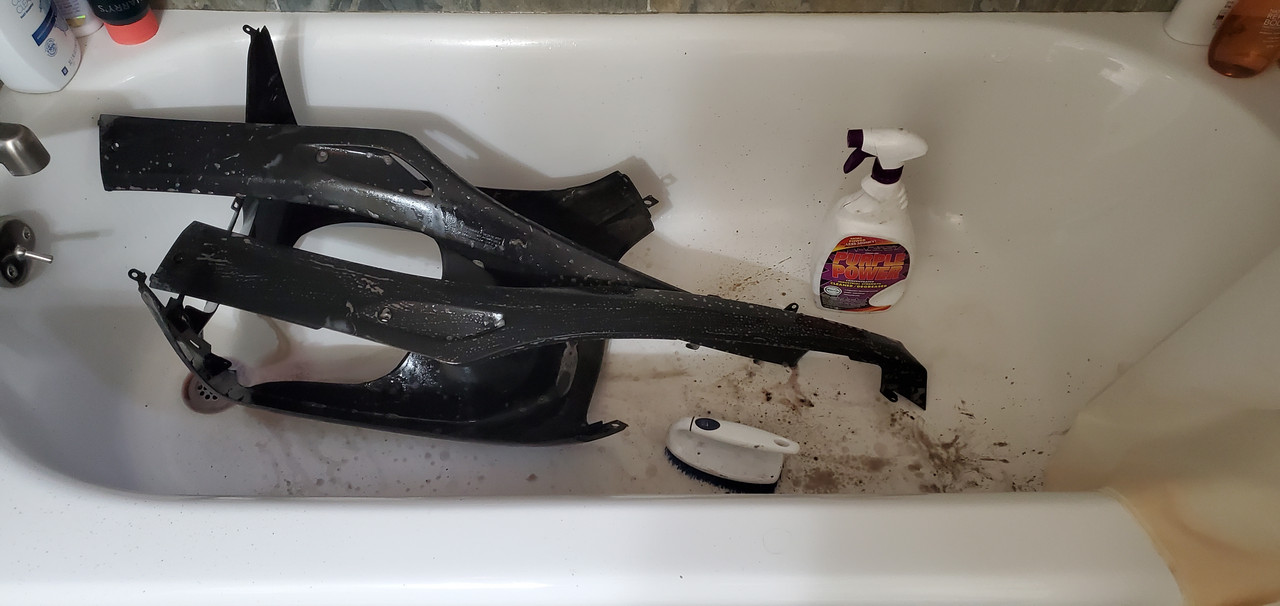 Some plastics had some decals from the previous owner. I debated leaving these on as these were original Japanese stickers from the 90s but I decided against it. With the Dio 2 ZX being a rare model already and exceptionally rare in the USA I wanted the panels to be bone stock. I broke out my heatgun and peeled off the old stickers. Here you can see where a Honda HRC sticker used to be. It was on there so long the plastic underneath still looks new.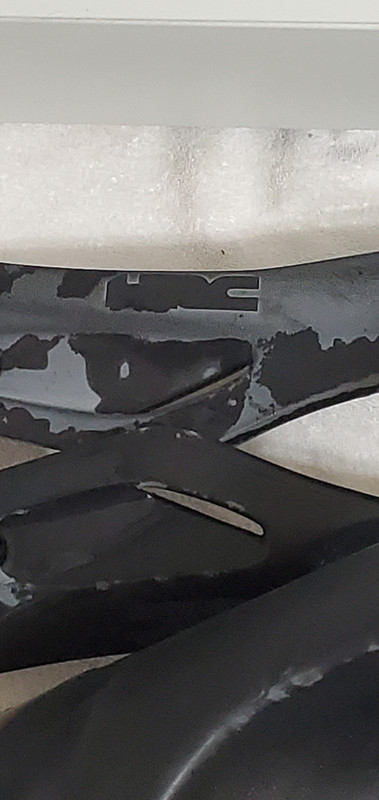 Some of the plastics were damaged when I received them. The nose plastic and cowl that surrounds the wheel both had some cracks. Fortunately another hobby of mine is electronics so I keep a very nice Hako soldering station. I fitted a very wide chisel tip and welded the cracks closed from the inside of the panel. I then used some old zipties (made of ABS like the panels) as a sort of filler rod to further fill the gap. I also had some JB Weld plastic weld lying around so I used that to further strengthen the bond and touchup the black areas. Its not perfect but I am happy with it for now. The bond is strong so I don't have to worry about any further damage.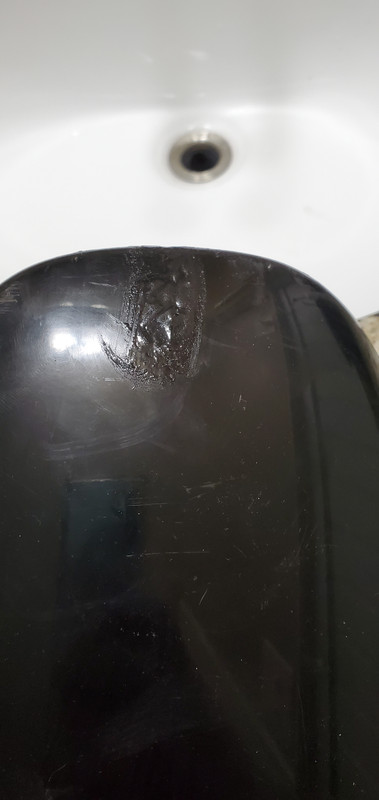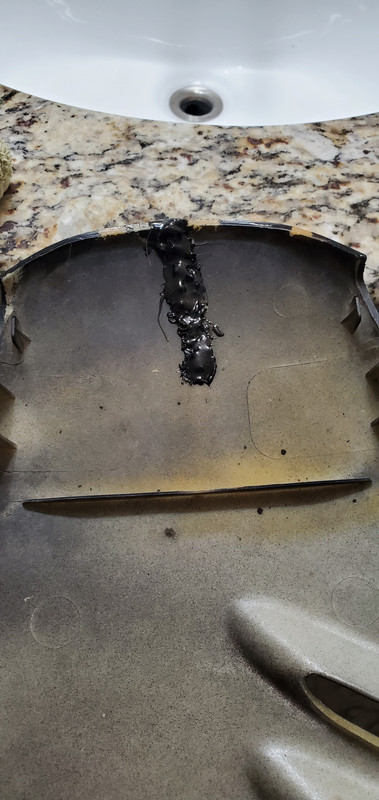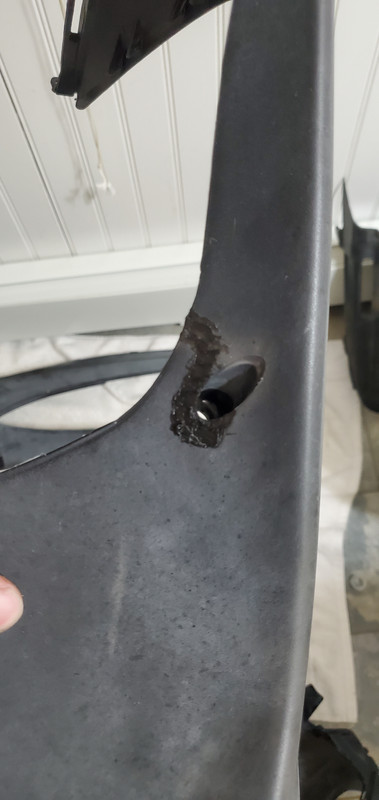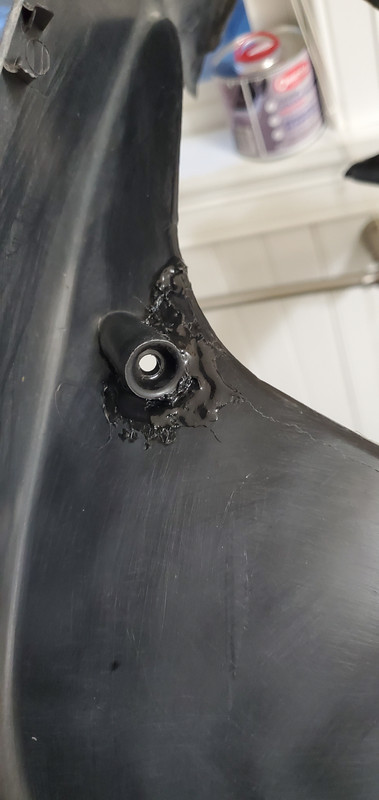 I got to applying the Polytrol after everything was repaired, clean and thoroughly dry. The ticket with this stuff is to apply it thick with a brush and then to wipe off excess after 10 or so minutes. You MUST use something that is lint and dust free. I used some microfiber towels I had lying around. I washed them beforehand to ensure cleanliness. After they have been wiped clean LEAVE THEM ALONE! Don't touch them, move them, handle them, heck don't even think about them. Let them dry for at least a few hours. Any sort of lint, dust or oil will ruin the finish. The small can I ordered is still essentially full after all the plastics were coated. I may go back and do a second treatment later to really make everything pop. Here are some results.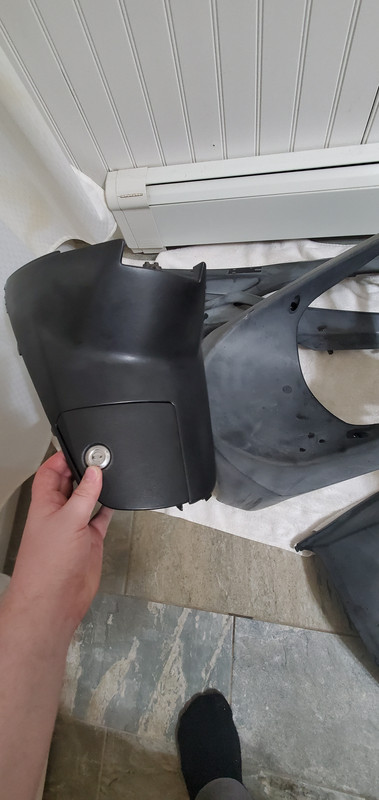 I ordered fresh decals for the nose and side plastics as they are fairly faded. Before I remove the OEM Honda decals I want to ensure that the replacements are high quality. The nose and seat bucket plastics are painted. I am not very good at painting and I want to avoid re-painting at all costs. My plan for now is to first verify the replacement graphics are high quality then remove the old graphics and use polish to clean the old panels. Then after everything is prepped I will apply the new graphics. I'm hoping polish will be enough to freshen everything up and restore some shine. Its all relying on the original panels having been shot with clear by Honda. I'm not sure if they were though. I'm debating purchasing some 2K clear and spraying them to help restore some shine. Well see.