Post by jloi on Sept 26, 2020 18:50:02 GMT -5
I saw something on the web somewhere that started me thinking again . about de-rusting my vise . so I started searching around . I watched several , this is the one I went with .

first thing I did was soak everything in gas and use my parts brush to degrease everything - then I cleaned that with laundry soap and then again with liquid ajax to try to get the petroleum residue off .

I got a bag of this -

before -

after -

that was overnite - about 15 hrs . I think I only needed about 4-6 hours .

the base plate and threaded rod/handle is still cooking - wasn't room for everything -

looking into the barrel you can see the female portion that accepts the threaded rod for the handle . it is removable but I would have to drill out the pin I'm pointing to ; and there's another on the opposite side . then I'd have to get2 more pins . I don't know if they're swedges or just strait pins .

here's the pin-

so , it seems it worked just fine for removing all the rust. but I'm left with a greenish powdery stuff when I wire brush it or use the little sand paper dealie in my small drill . .

It still has some old paint - everywhere . debating on just going ahead and spending $150.00 + or - to have it glass beaded to satisfy my OCD perfectionism . whatever I do I want to take the female threads out .

also, I have some of this 45% really strong , burn you real good vinegar - so I put the small parts in a container just to see what that will do .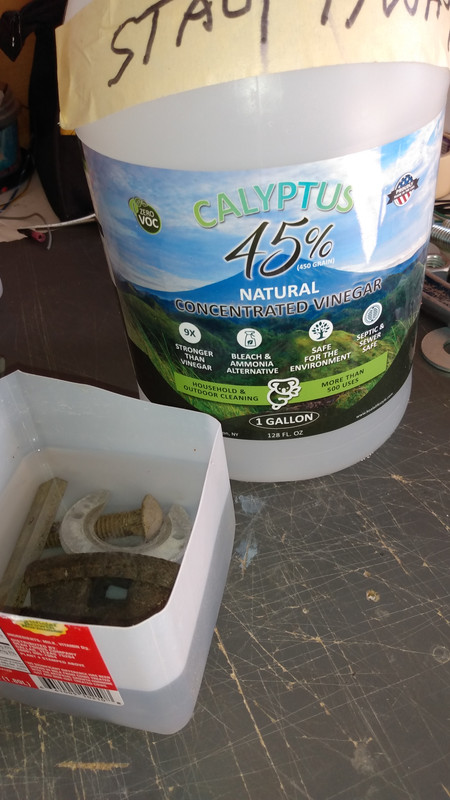 where it is down to bare metal is where I used the sandpaper flapper wheel in my drill. I don't know if that's the best idea to take it down to bare metal with that . plus, there's places I can't get to .

have to call Wilton on Monday about replacement parts ; rubber washers for the handle ; 2 new pins maybe for when I drill out the old ones . probably get some 400 grit wet or dry ; a new bolt for the serated jaws for one side .

I used white lithium grease to lube the vise .

also , in the gripping serated jaws , a screw/bolt is broken off down in the threaded hole . need to drill that out and that'll give me a chance to use my Chinesium thread tapper again . don't think I have one that small though .

I checked - there's some some sort of reaction going on in the container with the vinegar .
we'll see .

3-4 hours later - the large base plate for the vise looks great .no paint . no rust . the small parts in the vinegar - no difference ; already done .

well I'm not satisfied with the 2 largest parts since they still have paint which even collected on the male portion of the barrel - which wasn't even painted .

So , now I'm moving on to this - this guy's good .

anybody have any words of wisdom . other ideas ?

edit - forgot to mention , I already bought the Hammered green paint not long after I got the vise and a can of etching primer - but I used the primer - a new can will be here Thurs .
hope the small stuff doesn't rust .