Post by x7rocks on Dec 10, 2020 13:25:46 GMT -5
I dont post much, but figured I'd post up a little build I have going on.
About 2 or 3 years ago I came upon a benelli x49 in st Petersburg florida for around 250 dollars, previous owner said it didnt run, but seeing how easy these 2t engines are to fix, I snagged it.
Turned out there was sand and algae in the gas tank that kept clogging up my fuel filter, so after a few tank full of fuel it eventually cleared.
Shortly after getting the bike to run, I installed a cheap ebay 70cc cylinder to see how the engine will pull. It was a fun little setup, but the bike is heavy, the entire setup at that time was an ebay 70cc cylinder, a stage 6 pro rep exhaust,malossi variator, and a hebo clutch.
Fast forward a few months, and I come across an aerox 100 engine in the u.k.
Two weeks later the engine arrives.
Was extremely dirty and was definitely "well loved"
But a bit of cleaning with some degreaser and a pressure washer brought the engine to a more presentable finish.
I wanted to see how well the engine would run without a rebuild, and after a compression and leak down test I found the numbers to be around 146 psi, and the seals to be in good condition.
Next was finding a 100cc exhaust, an by some luck of coming across a site called rakutan. I was able to source a wind jammer exhaust for what seemed to be a great price.
After receiving the exhaust, I went ahead and got the final parts for the engine to run, a new Reed setup from a aerox 50, and a pwk 24mm carburetor,and a malossi variator from their catalogue, 105mm in size with 19x15mm roller weights.
Next was getting an ignition, funny enough the ignition from the benelli was a larger 90cc style crank with a stroke of 39mm, but the flywheel was still able to fit on the aerox 100 crank with no modifications needed.
Short after I thought " maybe I should advance the timing by atleast 2 to 3 degrees" so I slotted the pickup plate behind the flywheel.
After priming the fuel, the engine started in about 4 kicks.
First impression was "wow a nice idle and that two stroke ping was a nice touch"
But I found a 140 main jet for the pwk to be way to fat and ultimately hindered performance.
After some work, the 40 pilot jet and 140 main jet had to go, what worked for me was a 35 pilot jet, and a 125 main jet with a 45 degree air filter. Temps at full throttle barely reach over 410 degrees, 390 at cruising speed at around 50 mph at 8,300 rpms.
Top speed was 58 mph. But I do think there is room for a bit more top end before I go to a larger 56mm bore. So I will continue to see if adding height to the ports with a bigger gasket, or simply add 1mm to exhaust height. But have the exhaust port width closer to around 60% of the bore size.
Edit! After realizing I haven't uploaded a single picture of the benelli I'll now fill this portion of my post with it.
Don't mind the right side panels, making adjustments with plastics to have My radiator reservoir in simple to get to location.
 And sadly no euro turn signals. I'm a searching for them so for now I just installed turn signals in the black out section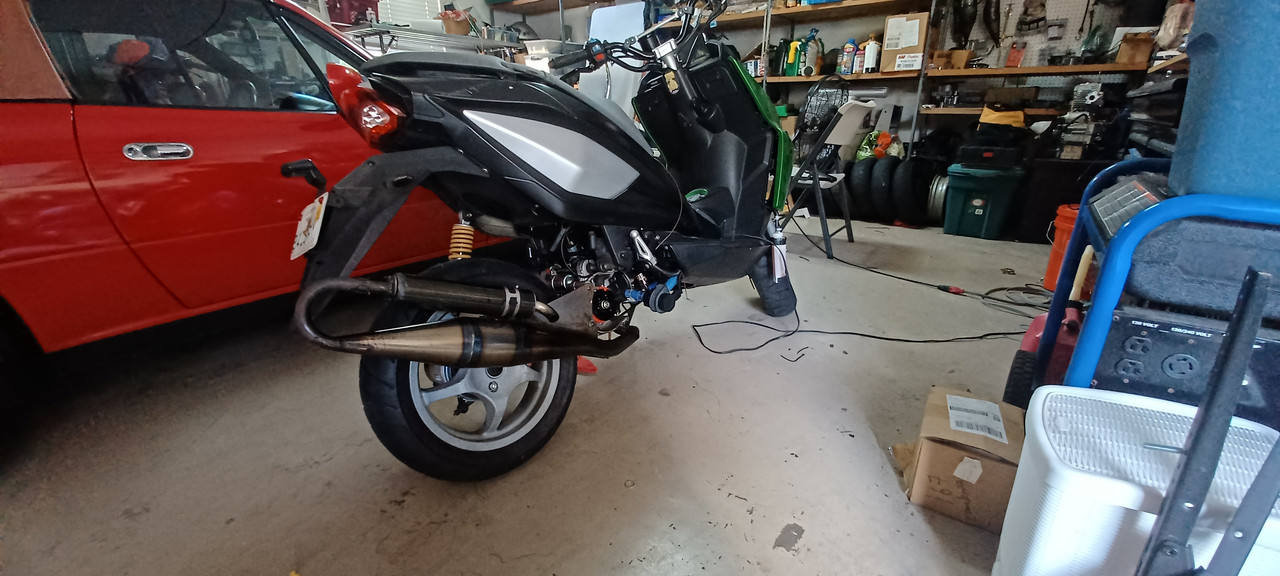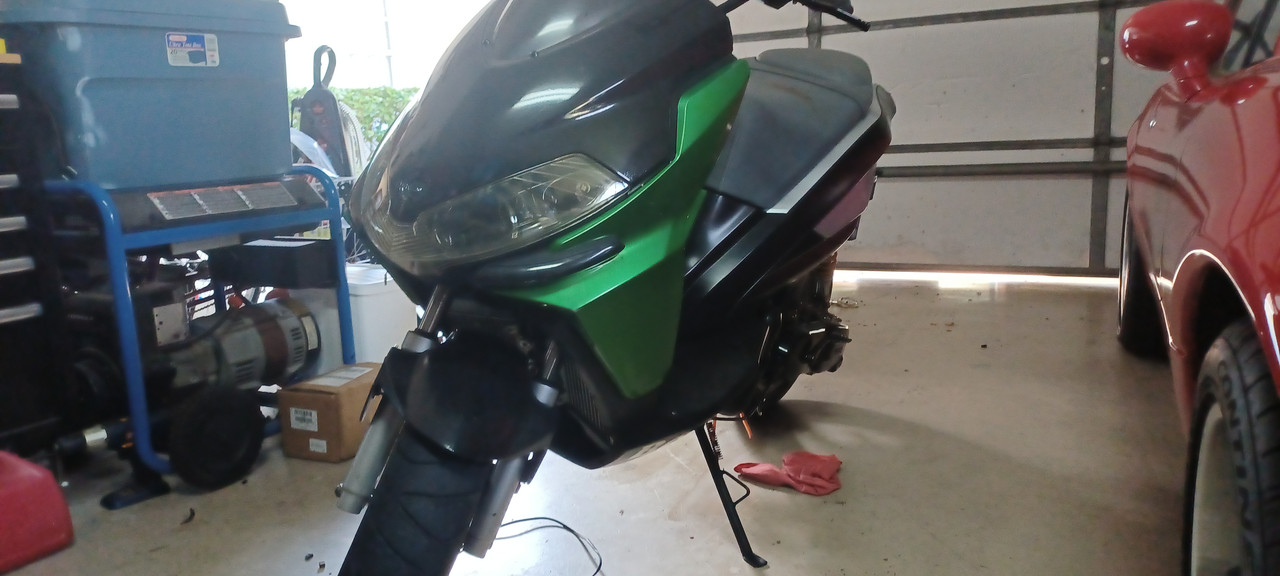 Just a slight edit again, the benelli comes with a flat cover over the front. I got risky and sanded and primed with rustoleum black finish, and I think it's the best thing I've ever spray painted with a factory like look and once polished gave a nice reflection 

it may not show it now since it's been sitting for a bit but the scoot has more shine than usual. An waiting for the Kickstart and electric bits was no help.
Update October 23, electric start reinstalled, now I can save my shoes from destruction (killed 2 pairs of shoes kickstarting this engine)